9 of the Best Beauty Gifts for Mum This Christmas
Christmas is almost upon us and finding the perfect gift for your mum should be top of the list. So, in a bid to make her look and feel extra special, Lumity have come up with some beauty treats your mother will treasure this festive season.
The chances are your mum insists all she wants for Christmas is to spend time with family - and maybe breakfast in bed thrown into the mix. But if you want to do a little more for the most important woman in your life here's some inspirational beauty ideas you could wrap up for her.  
Lumity's Skin Nutrients Facial Oil 
Your mum might swear by the same moisturiser she's used for years - until she tries Lumity's Skin Nutrients Facial Oil. 
Used morning and night this nourishing oil, loaded with an amazing blend of 32 all-natural ingredients, will leave your mum wondering why she didn't put it on her list sooner.
Not only does it smell incredible but used consistently it can reduce the appearance of fine lines and wrinkles too.
If your mum wants a smooth, youthful and healthy-looking complexion pop a bottle of Lumity's Skin Nutrients Facial Oil under the tree. 
Jade Roller 
A jade roller is a skincare essential which doesn't come in liquid or capsule form but can work wonders for your mum's skin. 
While she might not know what this little tool is, once you tell her it eases puffiness, brightens skin and helps smooth out fine lines and wrinkles, we can't imagine she'll be taking it back!
Lumity 4-in-1 Cleanse
This next-generation cleanser is about so much more than just washing your face. 
It's a cleanser, makeup remover, exfoliator and a face mask too and it'll leave your mum's skin positively glowing.  
For a pamper package all wrapped up in one jar Lumity's 4-in-1 all-natural cleanser is perfect.
A Retreat  
Your mum probably doesn't remember the last time she made time purely for herself. So why not gift it to her in the form of a retreat. A getaway with a purpose or simply the aim to relax can be life-changing, but all too often mums won't do it for themselves. Take the reins, book her break and all she has to do is turn up. 
Stuck for ideas as to what sort of retreat to send her on? Here are some options:
 - Yoga retreat - actress and meditation coach Maude Hirst runs some amazing yoga and meditation retreats. Check out her Energy Rise website to find out when they're running and to book a spot
 -Spa retreat - if you think your mum deserves to put her feet up and get pampered then there are a whole host of spa retreats available around the country, or abroad, and with a little research you can find her the perfect getaway.
 - Culinary retreat - whether your mum is master chef in the kitchen or just loves food a culinary retreat could be the thing for her where she can eat, drink and cook to her heart's content.
 - Wellness retreat - perhaps one of the most common retreats is a wellness retreat where your mum can recharge her batteries and indulge in some healthy exercise and mindfulness too.
 - Nature retreat - for a mum who loves the great outdoors a nature retreat would be an amazing gift and an opportunity for her to revel in nature. 
Lumity Morning and Night Supplements
Give the gift that keeps on giving with a subscription to Lumity's Morning & Night Immunity Support Supplements.
There's not much better than delivering a present of overall wellness and that's where the beautifully packaged, soft gel capsules come into play. 
Not only do they improve the appearance of skin, hair and nails but the powerhouse of all-natural vitamins and nutrients give your energy a boost and better sleep as well - exactly what your mum needs after a busy Christmas.  
Facial
Book your mum in for a facial for a complexion boosting, post-Christmas treat. After all the Christmas get-togethers and overindulgence, her skin will revel from some professional TLC.
Makeup consultation
Your mum could kickstart the new year with a makeup refresh if you gift her a consultation with an expert. We all fall victim to getting stuck in a makeup rut from time to time, but with a gentle nudge your mum could get out of hers. Go along with her and get yours done at the same time. Add some shopping into the mix and you've got a whole day of fun planned. 
Sheet masks
Sheets masks have taken the beauty world by storm and while your mum might look a little silly putting one, she'll love the results when she takes it off.  
Plenty of brands offer gift boxes full of them so she can treat herself for weeks on end. 
Meal delivery service
You might not think of food as being part of your beauty regime, but what you eat plays a huge part in how you look. The right foods can help give you a glowing complexion and make you look and feel your very best. 
A meal delivery system such as Mindful Chef or Hello Fresh will deliver fresh ingredients, along with the recipe guides allowing your mum to whip up a healthy and delicious meal, night after night. She'll love the fact she doesn't have to think about what to cook and you may just get a dinner invitation too.  
So there you have it our Top Tips for what to buy mum this Christmas. Did we miss something? Let us know below.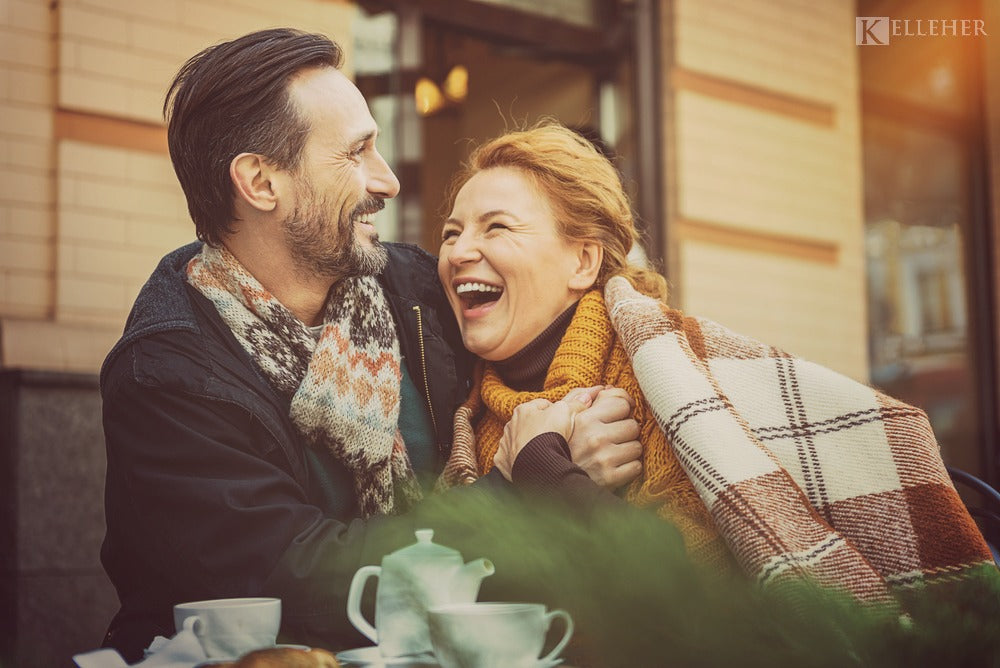 If you want to live a happy, healthy and long life thinking positively about your age is key! But if, like so many, you struggle to see the good in getting older you may need a little helping hand...
Read more