Why PiYO is the ultimate healthy ageing workout you can do at any age
When it comes to your workouts, what worked for you in your 20s might be too full on in your 50s or if you're just getting started the choice of classes, apps and training programs is almost too overwhelming to even think about. We've taken a closer look at PiYO, the new fitness craze that's said to be the next big thing.
If you want to get fit, with a feel-good, low-impact, calorie burning workout that promises to benefit men and women of any age then PiYO could be for you.
Fitness instructor Lyndsay Sherwin shared all the details with Lumity about the workout that can transform you from head to toe whether you're 30, 40, 50 or beyond.
What is PiYO?
"PiYO Live is a total body workout that will literally sculpt your body and lift your mood!" explains Lyndsay. "It's music driven and combines the muscle-sculpting, core strengthening benefits of Pilates with the strength and flexibility of flowing yoga movements. It has elements of dance and martial arts tied in which creates a truly unique low-impact workout that will work every single muscle."
Lyndsay describes it as "yoga on steroids" but don't let that scare you off. She simply means you don't have to hold the poses like yoga and pilates and instead you flow through the sequences with some uplifting music along the way too.
"It's a true fat-burning experience that leaves your body looking long, lean, and incredibly defined. You burn serious calories and at the same time, lengthen and tone muscles and increase flexibility."
What can PiYO do for my body?
Even if your fitness levels aren't in their prime – whether that's because of age or simply an inactive lifestyle – PiYO can be for you. In fact many of the ailments that come with getting older can be helped with this workout as Lyndsay explains:
9 ways PiYO helps your body during a workout
Burn excess fat:  "We are constantly moving during the whole class; for example: up, down, push-ups, lunges, squats, leaps to the sides, chaturangas, etc, etc… In the first 15 minutes of it, you are already sweating."
Sculpt and define your whole body: "The class is delivered in sections: warm up, lower body, full body fusion, power, and so on: so we have the opportunity to work out every muscle of our body. There is no equipment: no weights, no stretch bands, and no steps.  You need a mat, sweat towel and water!"
Minimise aches and pains:  "The workout is super friendly on knees, ankles and feet. There are some parts of the class that I like to ramp up a level but with moves that you can jump if you feel like it, but it is a very low impact workout, and incredibly effective.  It is designed for people of all ages, men or women, any fitness level."
Your body and your mind feel younger:  "We get stronger and stronger and in better and better shape, so PIYO not only helps your body to get healthier, but also helps your mind release any stress.  I believe your body will do anything your mind will ask for. Healthy mind, healthy body. It really does build mental strength as well as physical."
Build your endurance: "This is a very simple statement; the more muscles we can get working, the more they will challenge our heart and our cardiovascular system; PIYO brings strength training and cardio; therefore, we will be better athletes."
Improves agility and flexibility:  "PIYO is inspired by elements of Pilates and yoga; therefore, you will definitely become more flexible with each class."
Improves posture: "There is a strong focus on form throughout, particularly core strength and stability which directly impacts posture. As our muscles get stronger; posture improves. 
Total body transformation: "In my personal experience, PIYO has changed my body shape dramatically. I have gained muscle definition, improved total body condition but fundamentally my core strength is my biggest win! You can have three children, two c-sections, be nearly 40 and have the abs you've always wanted with PIYO!"
Is PiYO really for any age and fitness level?
"PiYO is inclusive and will challenge you no matter how old/young you are, whether you are a fitness fanatic or new to exercise," insists Lyndsay. "The social community of PiYO makes it a great place to socialise and the low impact moves make it so much more accessible to try a high intensity workout. 
"People who love PiYO are those who enjoy yoga and Pilates but want more! They want the sweat, they want to feel the endorphins that a great cardio workout brings. 
"Specifically, as we get older we lose mobility in our muscles and joints, our core stability and body strength weakens and things like balance, posture and cardiovascular strength are affected. It is so important to work on range of motion and core strength to enable us to live an active, healthy lifestyle. And most importantly to find something that isn't dull! 
"Getting older doesn't mean exercise has to be less challenging! As a group fitness class, PiYO is in a league of its own because there really isn't much out there to cater for such a diverse spectrum of class participants – PiYO ticks that box perfectly."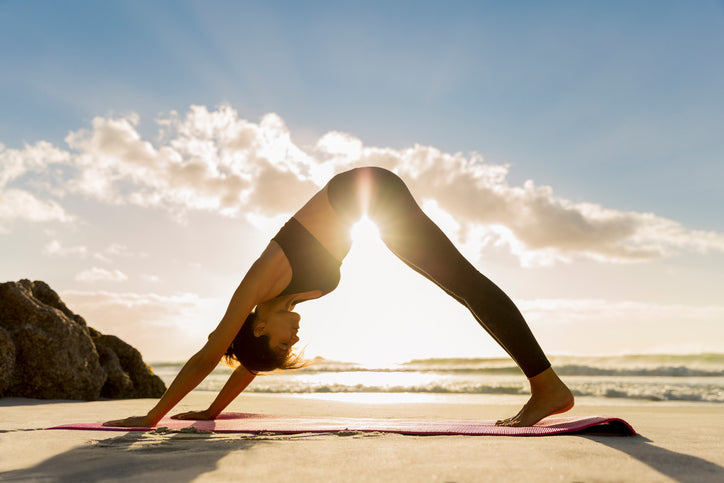 7 Celebrities that swear by yoga
  When Jennifer Aniston gifted Oprah Winfrey a yoga mat in front of millions of TV viewers, it signalled the growing fascination for the esoteric Indian discipline that harmonises mind, body, and...
Read more