Limited Edition | Ultimate Morning & Night Ritual
Indulge your loved ones (or yourself!) with our limited edition gift sets, created in collaboration with Evermore. Evermore's unique fragrances draw inspiration from nature, the season and the skies. The candles we've chosen to include in this year's collaboration complement Lumity Morning & Night's design and the powerful benefits of harnessing the body's natural circadian rhythm to create the ultimate wellness ritual.
Save 20% on individual RRPs - saving already applied
SET CONTAINS
Lumity Morning & Night Starter Kit | Lumity's award-winning Morning & Night supplement is the clinically tested all-in-one nutrition powerhouse, designed to deliver a range of benefits including improved immunity, glowing skin and hair, better hormonal balance and stronger focus. 
Evermore LIGHT and MOON Luxury 300g Candles | Let the fragrant citrus fruit & bergamot scent of LIGHT to energise your day, then wind down on cold nights with MOONS's heady notes of rose, smoke and saffron.
£20 Giftcard | Our gift to you, enjoy an exclusive £20 to spend on your first Morning & Night subscription order.
*EU Shipping not available
Sale price

£168
Regular price

£210
(/)
Limited Edition | Ultimate Morning & Night Ritual
Buy now
Choose options
Shop the collection for a limited time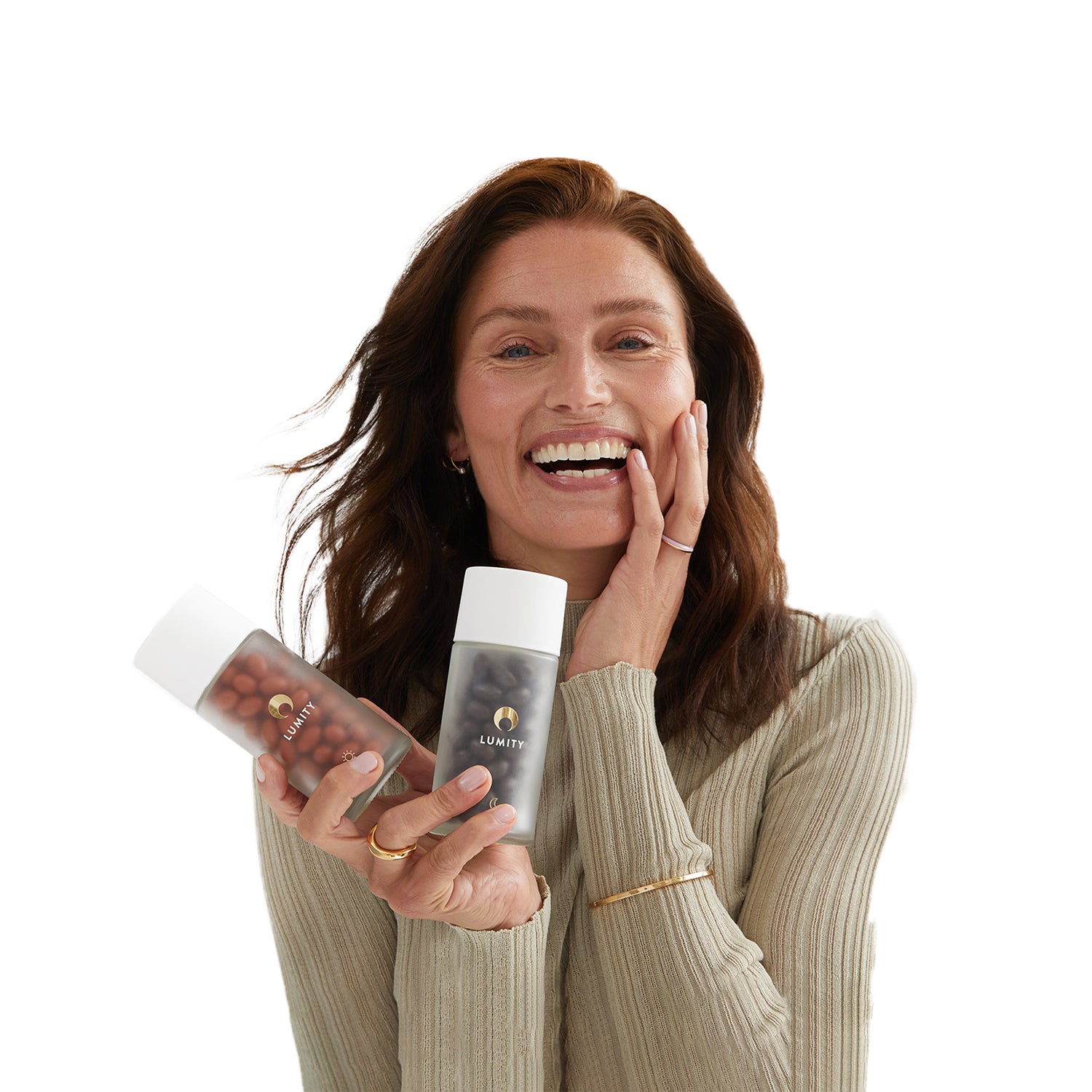 Lumity Customers, Real Reviews
Zoe De Pass
Founder of Dress Like A Mum & Social Influencer
@dresslikeamum
"Since taking Lumity I have found that I sleep better, my skin feels great and overall I feel healthier. So if you are looking for a supplement that pretty much does everything you need it to then I would definitely recommend Lumity."
Morning & Night Female Customer
Need to know
How long do I need to take Lumity Morning & Night for before I see / feel benefits?

Whilst some customers see benefits within the first few weeks, we recommend a minimum commitment of 12 weeks in order to see tangible benefit. With continued use, these benefits are sustained and the signs of ageing are reduced.
Will Lumity Morning & Night help with menopause?

Our formula has been specifically formulated to offer additional and targeted hormonal support for women at all stages of their hormonal life journey -  including peri-menopause, menopause and post menopause. Our new and enhanced formulation has been scientifically calibrated to support healthy hormonal balance.
How long does the Evermore Light / Moon candle burn for?

The Evermore Light / Moon candles burn for 60 hours.
What are the notes in the Evermore Light candle?

Top: bergamot, grapefruit, orange blossom, petitgrain
Heart: rose buds, violet leaf
Base: cedarwood, blonde woods
What are the notes in the Evermore Night candle?

Top: rose petals
Heart: saffron, violet leaf
Base: sage, patchouli, cedarwood, cade