Jennifer Garner's every day smoothie: How healthy is it?
Jennifer Garner drinks this smoothie every day, but just how healthy is it? We asked an expert to weigh in on the go-to breakfast drink the A-lister swears by.
Jennifer Garner is a busy mother of three yet still manages to look at least a decade younger than her 46 years. So, when she took to Instagram to reveal the breakfast smoothie she swears by every, single, day Lumity had to know if it was everything it's cracked up to be.
We asked nutritionalist Karen Cummings-Palmer to give us the low-down on Jennifer's collagen packed breakfast boost.
What's in Jennifer Garner's skin-glowing smoothie?
Jennifer began drinking the smoothies as part of her fitness regime a few months ago, when she was training for her upcoming role in the movie 'Peppermint'. She says she's been hooked ever since.
Here's how to make it:
2 scoops collagen protein powder
1 tbsp ground flaxseed
1tbsp chia seeds
1 tbsp chia seeds
1 tbsp almond butter
1 1/2 cups unsweetened almond milk
1 handful of fresh spinach
1 very small handful of blueberries
Mix it all together in a blender and voila!
It's a healthy 'fast food' option
Jennifer says it's tastes better than it looks. But is it a balanced breakfast option? The answer is yes!
"The smoothie contains a really good balance of phytonutrients, fat and protein," says Karen. "I think it is a great 'fast food' option and I certainly love a breakfast shake a couple of times a week."
But is it too much of a good thing?
When you find a recipe you love and that makes you feel good too, it's understandable to want to replicate it every day. But Karen says Jennifer could get more benefits from her morning smoothies if she just changed it up a little.
"I wouldn't recommend drinking it every day," she told Lumity. "Firstly it is really important to mix it up  – spinach for example is nutrient dense but raw spinach contains oxalate which can limit the absorption of calcium so like everything else moderation is key. I'd like to see a blend of different greens from the land and sea – kelp, kale, chard and dandelion greens would all be great options."
A smoothie/solids combo might be best
Rather than blend up your brekkie each morning, Karen suggests sometimes switching it out for a protein rich, edible option instead.
"I am a huge fan of skin and hair supporting biotin rich eggs for breakfast," she adds. "So I'd probably recommend alternating between Jen's shake, vegetable omelettes, poached eggs on avocado on rye, sprouted pulse scramble and the occasional bowl of gluten-free oatmeal with nut milk followed by Lumity AM capsules. Just make sure you wait at least 30 minutes before downing a coffee as it can compromise all that delicious nutrition!"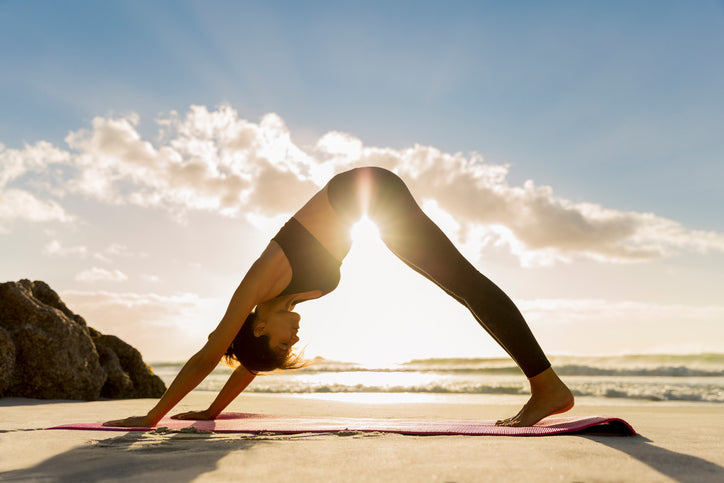 7 Celebrities that swear by yoga
  When Jennifer Aniston gifted Oprah Winfrey a yoga mat in front of millions of TV viewers, it signalled the growing fascination for the esoteric Indian discipline that harmonises mind, body, and...
Read more